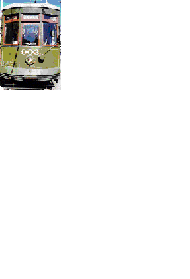 To get a true feel for the city, it's worth your while to take a streetcar ride from Canal Street uptown along the oak-lined St. Charles Avenue- which runs along the edge of the Graden District. The 13 mile (84 km) route takes about an hour and a half, round trip. The streetcar runs continously 24 hours a day, roughly every quarter of an hour between 7am and 8pm. After 8 pm it runs every half hour until midnight, then every hour until 7am (it is a good idea to know the nearest bus line or have cab fare as there is occasionally trouble on the line). After 9pm opt for the cab, as it is unsafe to wait on streetcorners at night, even on St. Charles. Along the route, the car will stop about every two blocks if passengers want to enter or exit.
The St. Charles Avenue streetcar line is the oldest operating street railway system in the country, dating back to 1835 when the New Orleans and Carrollton railroad connected the city of Carrollton to New Orleans. The 35 olive green cars in use today are Perley Thomas Arch Roof 900 Series cars built in High Point, north Carolina in the 1920's.
The St. Charles Avenue Streetcar is here!

Step Aboard and enjoy a great ride
note: The Virtual Ride is a graphics-intensive download- please be patient- I am sure you will enjoy it- it features the round-trip ride with picts starting from Carrollton St stop (imagine yourself sitting on the left side of the streetcar and facing forward).
---